You know you need social media, but you have no idea where to start.
That is why we've developed this Kit for you. It's the simplest way to post with confidence.
We understand how social media can be overwhelming. We've helped hundreds of companies develop their social media strategy. And now, we want to help you.
This Kit will provide you with:
A 1-hour discovery session with an expert on the Brand Yourself team.
24 CUSTOMIZED pre-written posts AND images that you can COPY AND PASTE into your platforms. That's 24 posts for 2 platforms (for a total of 48 posts!). This means you would have organic posts for 3 months!
A review call with your social media expert so you understand the results.
You're still driving the bike; we just provide the training wheels.
With our Starter Kit you'll get used to the rhythm, see what experts recommend and be able to watch which posts really take off before you begin designing your own posts. You'll be able to put this strategy into practice for years to come!
Look at what we've done for others!
Stop leaving your social media profiles alone out there... helpless and sad.
Stop missing out on new customers.
Our team has worked with a variety of industries. We know what it takes to transform a nonexistent social media profile into something that engages and connects with people. Let us help you by offering you our Social Media Starter Kit.
Together we design your content strategy (yes, you need that before you start posting) and will provide you with 3 months of fully executed, customized posts including images/graphics to share on your social media platforms. These captions are ready to copy and paste right into Facebook, Instagram or LinkedIn. It's easy:
Schedule a call with Tami to review the package and set a date for your Discovery Call.

Forward any style guides and images that you know you would like to be included in your content strategy.

Post and see the results of what a great strategy can do for your social media marketing!
You're wondering how much this thing is, aren't you?
We've dropped the price of our Social Media Starter Kit during the pandemic. People need connection and a way to promote their products and services. For 3 months of posts you'll pay only $500/month. For one full quarter of social media content you'll invest only $1,500.
Here is what others are saying...
Ok, still not convinced?!
It's ok. Maybe this isn't the right kit for you. Don't worry, we have a lot of other ways we can help you. Start your journey with Brand Yourself by downloading our guide on how to create social media content that would actually get results.
We've put together one heck of a guide for you. Learn how to ask better questions, design your content pillars, put together a calendar, and watch your social media campaign grow. We share some of our favorite tools and provide you with plenty of tips to get you started right away!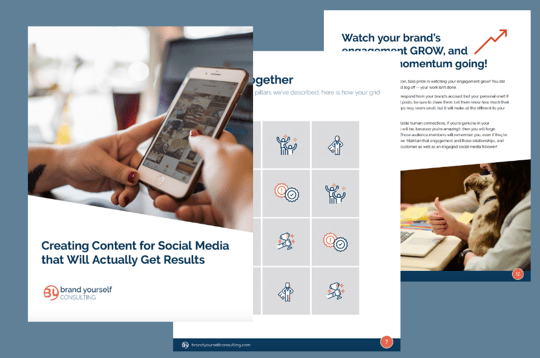 Get confident in your social media posts.